HEALTHY BUFFALO TURKEY SALAD SANDWICH
Who says game day eats can't be healthy? Lose the chips and french fries and choose this Buffalo Turkey Salad Sandwich.
I know. This doesn't look too healthy, does it? The secret, Greek yogurt. When mixed with the hot sauce and ranch salad dressing mix, something magical happens. Healthy buffalo turkey salad magic.
I was seriously skeptical of the whole Greek yogurt thing. I thought it was going to be a sad excuse for a healthy replacement. But it totally works. Like, just as good as all mayo.
A few tips for building the perfect quick + easy Healthy Buffalo Turkey Salad Sandwich…
Bread. Make sure it's high quality stuff. I'm talking crusty with a good, airy hole structure. And then give it a good toasting.
Avocado. Avocado always makes for a better sandwich.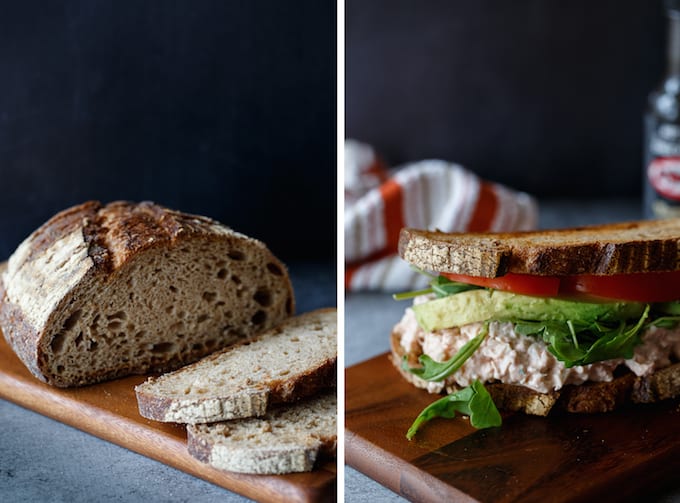 PREP TIME
TOTAL TIME
Serves: 4
INGREDIENTS
2 cups chopped, cooked Jive Turkey
½ cup plain Greek yogurt
1 tablespoon light mayonnaise
½ to 1 tablespoon hot sauce (depending how spicy you want it)
1½ teaspoons dry ranch salad dressing mix
Kosher salt
Fresly ground black pepper
8 slices good-quality crusty bread
1 tomato, sliced
1 avocado, sliced
Lettuce
INSTRUCTIONS
In a small bowl, combine the Greek yogurt, light mayonnaise, hot sauce, and dry ranch dressing mix. Stir in chopped Jive Turkey.
Toast bread. Top with buffalo turkey salad, lettuce, avocado, and tomato. Serve with carrots and celery, if desired. Devour immediately.
You can feel free to add finely chopped celery in to the buffalo chicken salad if you're into that sort of thing. I'm just not a fan of celery (that's right, I said it).